LUNCH IS LONG, LIFE IS SHORT AT THE MODERN: REVIEW
by TEJAL RAO
 
Days when you're squashed underground in a subway car and the guy next to you starts trimming his nose hair, it's nice to be reminded that New York City can be magnificent.
 
When the dining room at The Modern is full of light, go sip cold Champagne by the windows looking out onto the Museum of Modern Art's courtyard. In front of the dimpled bronze sculptures, there are kids taking selfies, a man in a leather-banded fedora with the latest David Mitchell novel, and women in red lipstick and silk scarves strolling arm in arm along the marble terrace. Give it an hour or two here, cozying up to sweet potato gnocchi under velvet petals of white truffle, and you'll get the feeling that New York is the greatest place in the world. And yeah okay, maybe it isn't, but that's the magic of a long lunch.
 
The restaurant is part of Danny Meyer's Union Square Hospitality Group (see also: Shake Shack, Gramercy Tavern). So when a water pipe running along the ceiling burst this summer, shutting it down for almost a month, the staff wasn't sent home to twiddle away their afternoons playing Kim Kardashian: Hollywood. Cooks went to work at other kitchens in the company, or gardened on the roof at North End Grill, or attended lectures, including one from Danny Meyer, who discussed the finer points of service.
 
New Dishes
 
When The Modern reopened in September with new floors and ceilings, there were dozens of new dishes from Abram Bissell, who had just taken over the kitchen in March. My favorite reconfigures the cauliflower steak trope into something finer: a golden-edged floret surrounded by crab meat, slivered almonds, cauliflower shavings, and a drizzle of butter that is barely sweet and properly crabby.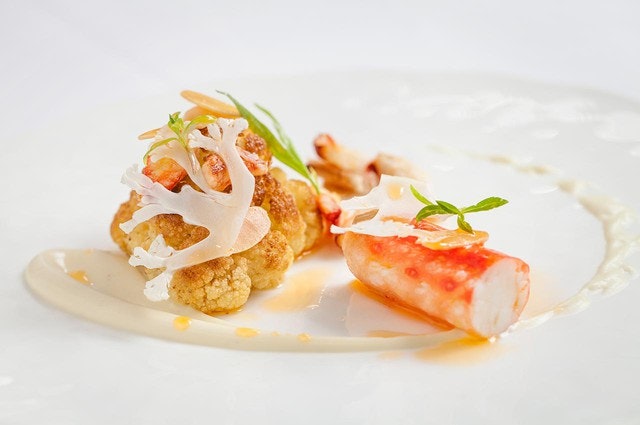 Since the restaurant reopened after a pipe burst over the summer, there are plenty of new dishes including this one of cauliflower cooked in crab butter. Photographer: Dominic Perri/Bloomberg
 
Bissell came from The NoMad and previously Eleven Madison Park. Like his predecessor Gabriel Kreuther, who ran the show here for almost a decade, Bissell respects luxurious ingredients — especially foie gras — and knows how to please people with them.
 
The six-course tasting menu ($128) recently began with wands of toasted brioche, a runny egg yolk, and a pile of wild American hackleback caviar — a perfectly extravagant and sticky mess of egg and soldiers. A few of the dishes that followed were technically stunning, such as the slice of foie gras terrine, blushing pink in a thin pastry with an almost invisible layer of fat across the top. But there's also something predictable about the tasting sequence (from fish, to beef, to chocolate) and I wondered if it showcases the best stuff from the kitchen, which can be just a bit more idiosyncratic.
 
It can be more fun to compose your own three- ($66 at lunchtime, $98 at dinner) or four-course ($76 at lunchtime, $108 at dinner) meal a la carte, and try that cauliflower or roasted foie. It's been some time since I enjoyed hot foie gras, which doesn't offer the same melt-in-your-mouth pleasures as a cold terrine. This one is roasted with lemons, tempered on the plate with a bit of jammy quince but also the deeper, more bitter flavors of radicchio leaves. It's amazing how a snarl of bitterness can mellow so much fat. And it's far more interesting than plain, sweet fruit.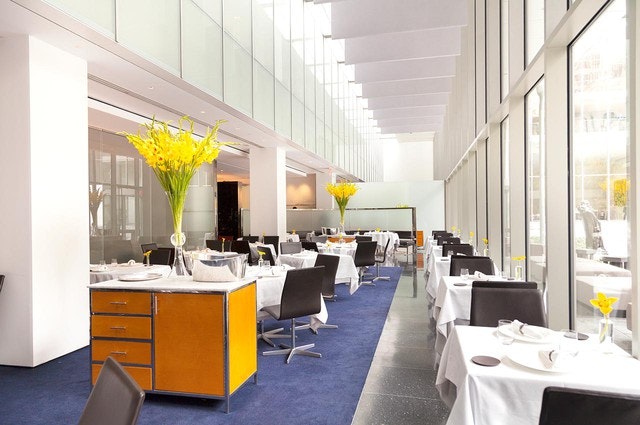 The dining room is a glassy, light-filled space that overlooks MoMA's sculpture garden. Photographer: Dominic Perri/Bloomberg
 
Get Sauced
 
A few presentations involve table service, like with the chicken breast that is beautifully carved off the bone into a long, elegant teardrop with very brown skin that hides a layer of pistachio stuffing. As it's set down before you, a waiter spoons over a dark, caramel-colored sauce made with foie gras (what else), which transforms the chicken breast into something more opulent. Though missteps are rare, the meat was on one occasion a touch squeaky and dry.
 
At lunch — the best time to go to enjoy the grandeur of the room — you'll find yourself among women in leather-trimmed jackets and shift dresses, and men in suits, most of whom are pushing through three courses with a glass of wine before heading back to work. Servers can get you in and out efficiently, if that's what you need, but they don't rush those who want to linger over dessert and coffee. Though pastry chef Marc Aumont has just left, his chocolate-loaded cart ($8 supplement) is still wheeling around the dining room. Chocolate doesn't sound terribly exciting, but the presentation can turn perfectly reasonable people into giddy I'll-have-one-of-everything freaks. Every now and then, there's nothing wrong with that.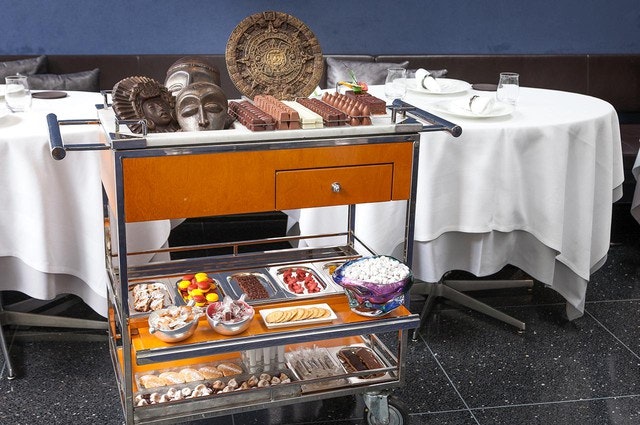 Behold the chocolate cart loaded with truffles, caramels, and other delights. Photographer: Dominic Perri/Bloomberg
 
Rating: Three stars
 
What to order: Cauliflower cooked in crab butter; foie gras roasted with lemon; sweet potato gnocchi with truffles. If sweets are not your thing, take a cue from my dessert-averse friend, who really got in the spirit of things and ordered the foie and red currant tart (yes, it works).
 
Who's next to you: Suits. Power suits. Beautifully dressed couples of all ages. Families with grownup children out for a special occasion.
 
Need to know: If you're in a hurry, the staff is very good at getting you out by the time you need to bolt — tell them when you arrive. The longer six-course tasting menu is available at lunchtime, even though it isn't advertised.
 
Soundtrack: The hum of conversation and the clinking of glass and silver, plus a bit of real, but not too obtrusive noise from the more casual bar and lounge next door.
 
The Modern is at 9 West 53rd Street (Midtown); +1-212-333-1220 or themodernnyc.com
 
(ORIGINAL ARTICLE)