DANNY MEYER TURNS ON THE PORCHLIGHT IN CHELSEA
The Gun Metal Blue cocktail sure to steal the show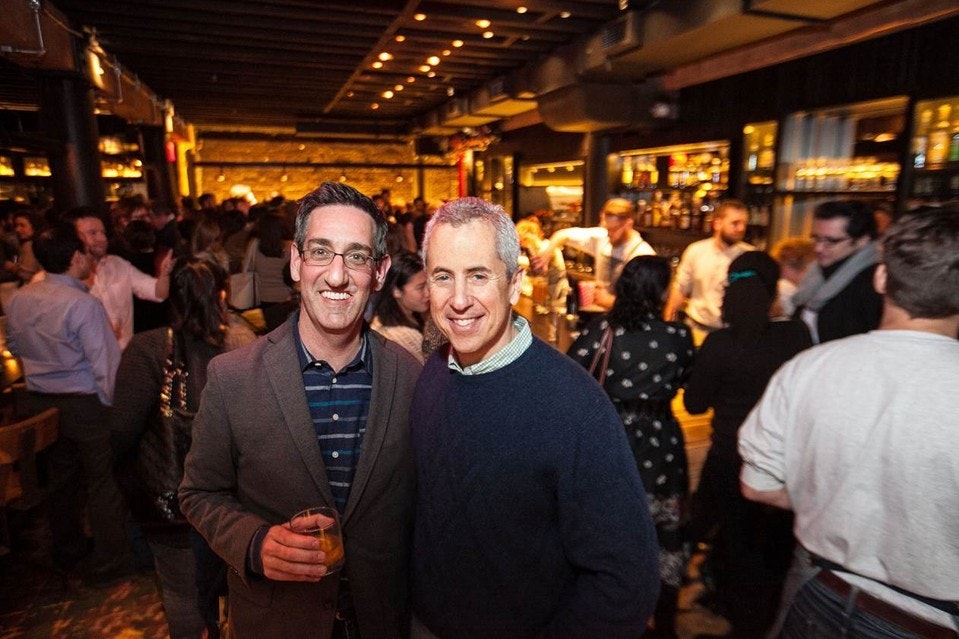 Mark Maynard-Parisi and Danny Meyer at a preview of Mr. Meyer's first cocktail bar, Porchlight.
PHOTO: ANDREW KIST
 
By ELVA RAMIREZ
 
Danny Meyer made a name for himself with burger, barbecue and fine-dining restaurants. Now, he is turning his attention to cocktails.
 
Porchlight, the first stand-alone craft-cocktail bar from Mr. Meyer's Union Square Hospitality Group, opens in Chelsea on Monday. The bar, on the corner of West 28th Street and 11th Avenue, joins the Hotel Americano and the McKittrick Hotel in colonizing the far corners of Chelsea with dining and night life destinations.
 
"It feels very natural, having had a lot of restaurants that also have great bars, to try to create a great bar that also has some small bites of really great food," Mr. Meyer said. "We're just letting the food be the supporting actress."
 
There is no full-time chef, for example, or a maitre d'. The menu isn't separated into appetizers and entrees.
 
"We're hoping to create that feeling of hospitality while not having all that structure of a formal restaurant," said Blue Smoke managing partner Mark Maynard-Parisi.
 
Porchlight, with its Southern inflections, is an extension of the Blue Smoke ethos; its "bites" menu was created by Blue Smoke chef Jean-Paul Bourgeois, a Louisiana native. Inaugural offerings include fried frog legs, a bison burger, cornbread and smoky beef jerky.
 
The bar is in a 1890s-era warehouse building (where USHG has their catering offices), and features wood reclaimed by the building's landlord and, in some places, the original concrete floors.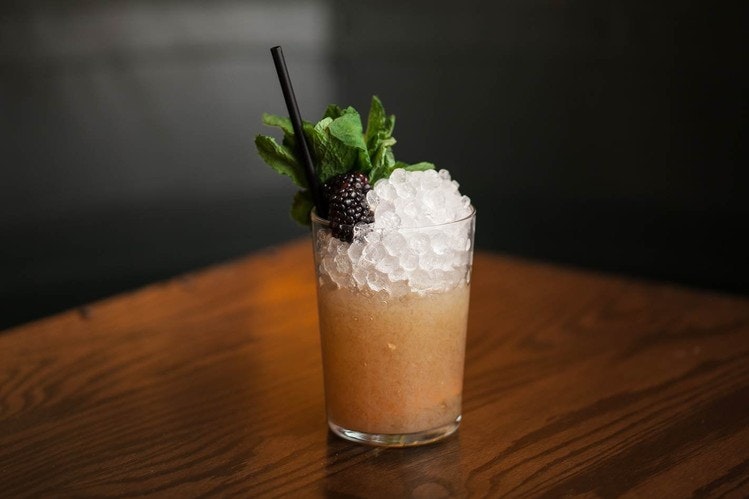 The Sherry Cobbler with sherry, homemade orgeat, bitters and fresh berries.
PHOTO: ANDREW KIST
 
Work on Porchlight started in earnest about two years ago, but, of course, there were delays along the way.
 
"We're near the Hudson River, so FEMA had to approve all of our plans," Mr. Maynard-Parisi said. After superstorm Sandy, the building moved its utilities from the basement to a higher floor.
 
Porchlight's signature cocktails include an in-house bottled Whiskey & Cola (Mellow Corn whiskey, Fernet Vallet, homemade cola syrup); the Storm's Brewin' (Hamilton Jamaican rum, Appleton rum, lemon, grenadine, passion fruit); and the New York Sour (Rittenhouse Rye, lemon, red wine, egg white).
 
The beer selection features an all-American lineup. John Ragan, USHG's master sommelier, created the wine list, and will feature both a local red and a white on tap.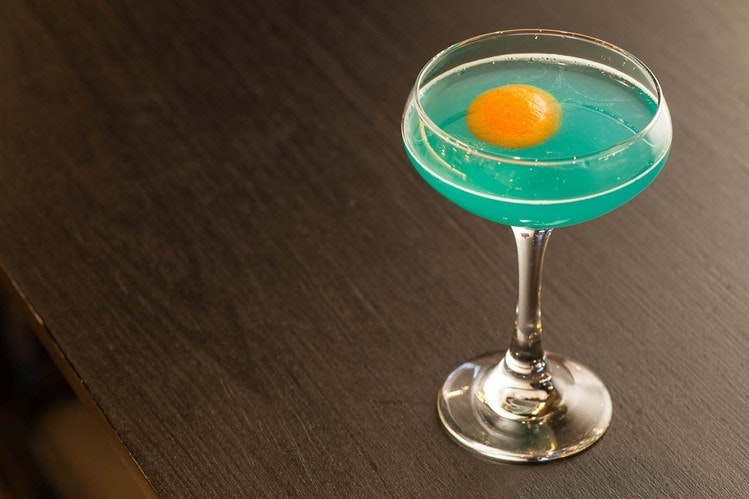 The Gun Metal Blue cocktail
PHOTO: ANDREW KIST
 
It's the Gun Metal Blue drink, however, that is designed steal the spotlight.
 
"We have this blue cocktail that has a flamed orange over the top," head bartender Nicholas Bennett said. "Everyone turns their head to see it. Out comes this neon-blue, high-stemmed, rounded-out elegant cocktail."
 
Don't be fooled by the color. The drink, made with Mezcal Vida and blue Curaçao, is unexpectedly smoky, with hints of soft peach balanced by a rich bitter cinnamon syrup.
 
"It's the adult version of a fratty cocktail," Mr. Bennett jokes.
 
Another drink, the What'll It Be?, will morph from customer to customer. A twist on the Bartender's Choice, in which a bartender chooses a drink for the guest, the Porchlight version does the opposite. It's whatever the guest's favorite drink is, made exactly how they want it.
 
"If you've got a go-to drink, our job is to listen to that and make the best version of it you've ever had," Mr. Meyer said. "And if we can succeed at that, where else are you going to go?"
 
Messrs. Meyer and Mayard-Parisi both nod to the Flagg Day (Rittenhouse Rye, Cardamaro, orange liqueur) as one of their favorite drinks, because the drink is named after the building's landlord, Chris Flagg, with whom they have a long business and personal relationship.
 
"I like that the drink evokes our affection for the landlord," Mr. Meyer said. "If you have a porch in the South, the greatest day is Flag Day. We want this to be the greatest day for people who come here, or the greatest part of your day."
 
(ORIGINAL ARTICLE)