A GLASS AND A SLICE, PLEASE
Wine and Pizza Come Together at Two Restaurants in New York
By Lettie Teague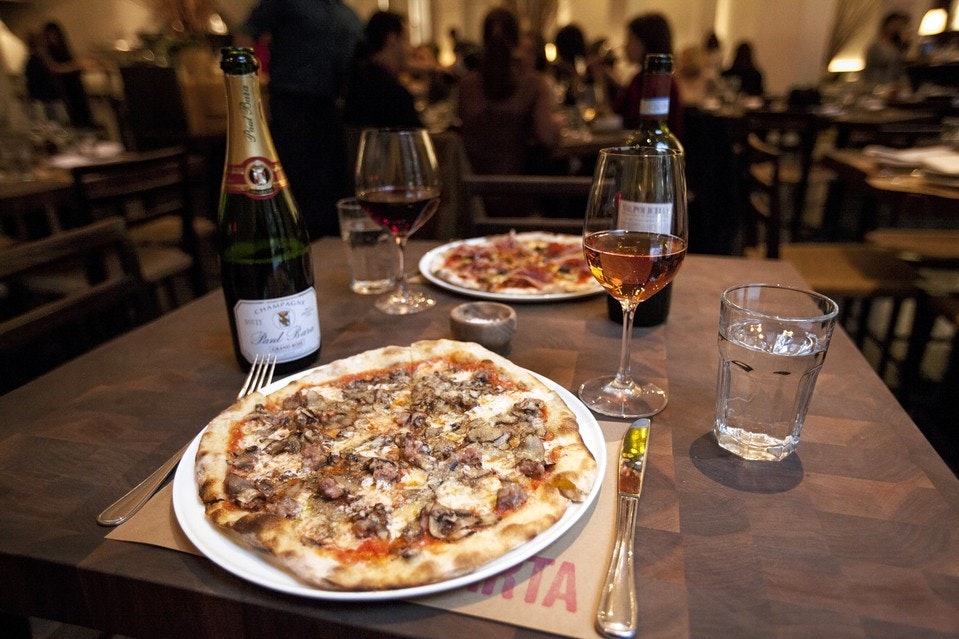 Wine and pizza are paired at Marta in Manhattan.
NATALIE KEYSSAR FOR THE WALL STREET JOURNAL
 
Pizza and Champagne may sound like an unlikely pairing—like caviar and Prosecco—but it's one of the favorite combinations of the wine directors of two new pizza restaurants in New York: Marta in the Martha Washington Hotel and Rossopomodoro in the West Village.
 
Both restaurants specialize in thin-crust Neapolitan-style pizza and all-Italian wine selections, as well as Champagnes. In fact, the French bubbly is the only non-Italian wine that appears on either list. As Jack Mason, Marta's 27-year-old wine director, said: "It's my favorite pairing of all."
 
Before Mr. Mason arrived at Marta three months ago, his only previous pizza-and-wine pairing experience was in college when he coupled pizza with sweet Riesling. "A lot of American pizzas are sweet so that they go pretty well with Riesling," he explained.
 
Mr. Mason loves Champagne with pizza so much that he's made it an important component of the Marta list—offering three dozen or so wines at very affordable prices. In fact, the Champagne prices are so reasonable (they start at $58) that Mr. Mason's fellow wine directors have been "freaked out" when they visited his restaurant, he laughed.
 
The non-Champagne part of the list is quite large and just as reasonably priced, with many wines priced well under $50 and even some decade-old Barolos priced at less than $100. Aged Barolo is an excellent wine with pizza, noted Mr. Mason. In fact, one of his favorite combinations is the Tartufata (a decadent ricotta, fontina, white truffle pizza) paired with the 1968 S.&B. Borgogno Barolo ($178).
 
What were some of his other favorite pizza-wine combinations? Mr. Mason rapidly rattled off the selections. The Margherita pizza was best with a "bright and lively Barbera" he said, naming a red grape of Piedmont.
 
The anchovy-centric Napoletana pizza was best with a lively Sicilian red. Ditto the Trippa alla Romana (pizza with tripe and mint), while the Capricciosa (mozzarella, artichokes, prosciutto, olives and egg) was a good match with the sparkling Erbaluce from Ferrando, he said. Erbaluce is a white grape grown in northern Italy.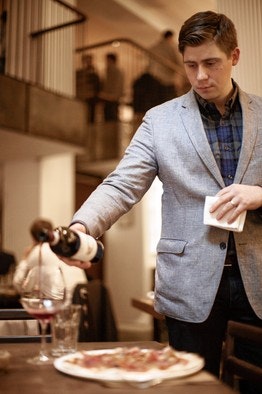 Jack Mason, wine director at Marta.
NATALIE KEYSSAR FOR THE WALL STREET JOURNAL
 
What were some of his other favorite pizza-wine combinations? Mr. Mason rapidly rattled off the selections. The Margherita pizza was best with a "bright and lively Barbera" he said, naming a red grape of Piedmont.
 
The anchovy-centric Napoletana pizza was best with a lively Sicilian red. Ditto the Trippa alla Romana (pizza with tripe and mint), while the Capricciosa (mozzarella, artichokes, prosciutto, olives and egg) was a good match with the sparkling Erbaluce from Ferrando, he said. Erbaluce is a white grape grown in northern Italy.
 
The Salsiccia (pork sausage) pizza that my friend Alison and I ordered was best with the Paul Bara Grand Rose Champagne ($22), according to Mr. Mason who then matched the Napoletana with a Sicilian red (2011 COS Cerasuolo di Vittoria "Classico" at $19).
 
The latter was a bit over-anchovied, while the sausage pizza was just right, savory and chewy, but Mr. Mason's wine-pairing advice was very good. The rose Champagne was lively and refreshing "like having beer with pizza," Alison remarked, while the Sicilian red, marked by soft tannins and dusty fruit, was a good counterpoint to the richness of the sausage.
 
The wine list at Rossopomodoro contained far fewer Champagnes, although the restaurant's wine and beverage director, Todd Stern, noted that the Billecart Salmon Brut Rose Champagne on his list, was priced at "an almost-break-even $150 a bottle." (It costs $145 at Marta.)
 
Mr. Stern's wine list is arranged according to style ("light and fruity" and "rich and round," etc.) rather than wine regions like Liguria or Piemonte. This makes it "more accessible" to his customers as well as his staff, said Mr. Stern.
 
Mr. Stern is a fan of the wines of Italy's Campania region, reasoning that they work particularly well with pizza since Campania is the home of Naples and Neapolitan pizza, after all.
 
And yet a wine drinker who thought the same thing might have a bit of trouble finding the wines, as he or she will have to sort through various categories, from "Clean and Crisp" to "Rich and Round" to "Unique & Adventurous" for Campanian whites, while the Campanian reds can be found under "Fruit Forward" or "Earth, Oak & Spice" or "Unique & Adventurous" too.
 
For our Broccoletta pizza (Brussels sprouts, guanciale and crème fraîche—a chewy, salty triumph), Mr. Stern recommended the 2012 La Rivolta Fiano de Avellino, a "clean and crisp" by the glass wine from Campania ($12) which was clean if not quite as crisp as I hoped.
 
He also wanted us to try the Billecart Salmon Brut Rose Champagne ($28) but we decided to opt for a less pricey fizzy rose Lambrusco from Ca Montanari ($12). Although both were pretty good matches, a third option, was again the perfect fit—a 2012 Barbera d'Asti from Rive—which was juicy and bright and just a touch rustic.
 
If Mr. Mason or Mr. Stern ever added wines from anywhere outside Italy (or Champagne), where would they go? Mr. Stern loved the idea of pairing Chateauneuf du Pape with pizza. As for Mr. Mason, it would have to be Germany. It is the home of great sweet Riesling, after all.
 
(ORIGINAL ARTICLE)