You're reading Team USHG, a a series of spotlights of our team members. From their hobbies outside the kitchen, to their journeys within the company, get to know the team members who make it all happen.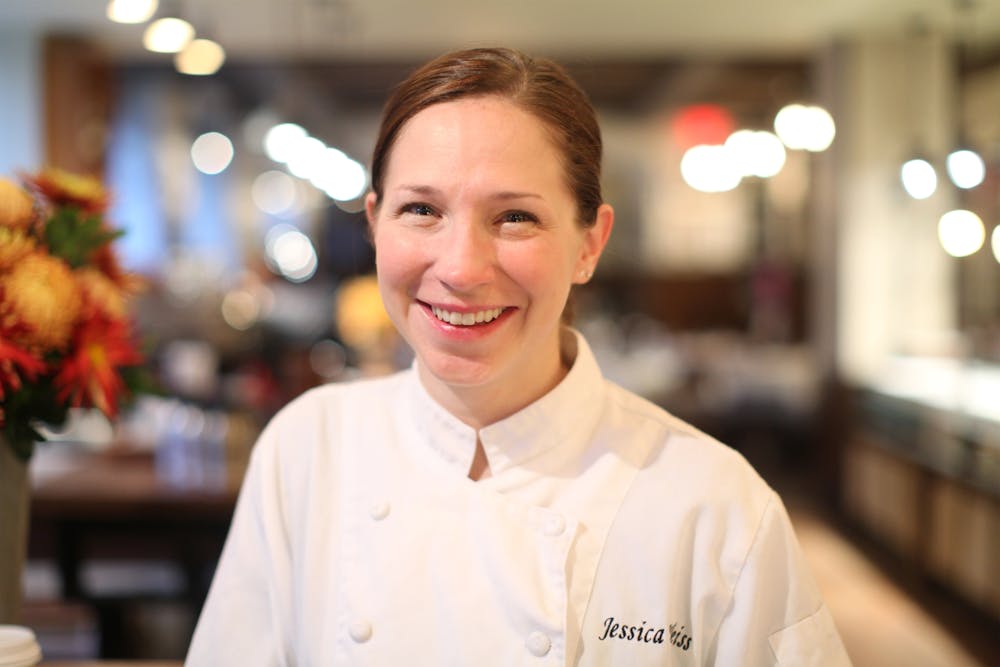 Jess Weiss
General Manager of Marta, Caffe Marchio,
and Vini e Fritti
"I am not a Pastry Chef who bakes at home. In fact, I try very hard not to bake at home since it is my day time gig. When asked what I like to bake at home, it is a firm "Nothing". Besides, I can get all the sweet treats I want at work.
What I have discovered recently is that I can be gently nudged to bake at home when challenged. I'm beyond competitive and when pushed I cave and go a bit too far. It's my nature and I can't help it. I like making people happy.
So when I got the "Why don't we have any fresh baked cookies at home?" I was off to the store. Of course, I can't just make one type. That would be too easy. My boyfriend wanted Monster Cookies. I had never made them before and had to look at a ton of recipes online before settling on one, tweaking it along the way. The other cookie was for me. My grandma's Potato Chip Cookies. Oh, they're amazing, but of course, I tweak those too, because I like them to be a little more salty than sweet. They always remind me of family parties growing up.
The Monster Cookies are kind of like a kitchen sink cookie to me. They have a little bit of everything and they're very chewy. They definitely evoke Cookie Monster himself – going a little too far with all the ingredients. It works though. They are a wonderful cross between peanut butter, oatmeal, and chocolate chip cookie. I'm happy they are now part of my cookie repertoire.
The Potato Chip Cookies are meant to be crispy. The complete opposite of the Monster Cookies. Potato chips are one of my favorite snack foods and to be able to fuse them into a butter cookie makes me want to bow to my grandma. She's a genius if you ask me! Sweet, salty, buttery, crispy – perfection.
I have to say that I appreciate the nudge I got. It rekindled a passion for pastry, specifically cookies, in my life. At work, we all have some specific boxes that we have to cook within. For me, that is Rome and Italian food, which I absolutely love. But at home, I can go crazy and mess around with anything I want. There are no rules! I now look forward to keeping the cookie jars full and the joy that brings to our home and my culinary soul."
Potato Chip Cookies
1 cup butter, soft
1 cup sugar
1/2 tsp salt
1 1/2 tsp vanilla extract
1 1/3 cups AP flour
1 1/2 cups crushed plain potato chips (Lays are my favorite for this cookie)
1/2 cup chopped, lightly toasted pecans
Granulated sugar for rolling cookies
Maldon Salt or Kosher for finishing.
Pre-heat oven to 350*F. Position rack in the middle of the oven.
Cream butter, sugar and salt until light and very fluffy. Add vanilla, mix together and scrape well. Add flour, chips, and nuts - all at once. Mix until well combined.
Chill dough slightly and scoop into heaping tablespoons. Round dough and roll in granulated sugar. Place on a baking tray lined with parchment. Press the cookies down with a fork until flattened. Then press again with the fork in the opposite direction. Sprinkle tops of cookies lightly with salt.
Cookies will not spread very much, so they can be baked close together. Bake 20-25 minutes until evenly golden brown. Rotate halfway through baking to ensure an even bake.
Makes 30-34 cookies.
Monster Cookies
1/2 cup butter, melted
3 each eggs
1 cup brown sugar
1 cup sugar
2 tsp vanilla
1 Tablespoon corn syrup
2 tsp baking soda
1 1/2 tsp salt
1 1/2 cups chunky peanut butter
3/4 cups AP Flour
4 cups rolled oats
1 cup chocolate chips
3/4 cup Butterscotch chips
2/3 cup mini M&Ms
Pre-heat oven to 375*F.
Combine eggs, both sugars, vanilla, corn syrup, salt, and baking soda. Mix until combined evenly. Add melted butter and mix thoroughly. Add peanut butter and mix until combined. Scrape well.
Add flour and oats. Mix well until everything is evenly combined. Add chips and m&m's. Fold in by hand, until thoroughly and evenly incorporated. Chill dough slightly and scoop into heaping tablespoons.
Freeze scoops of dough before baking. Bake from frozen. 15 to 18 minutes. Cookies should be soft in the middle with slightly crispy edges. Rotate halfway through baking to ensure an even bake. Do not overbake these cookies.
Interested in working at Marta, Vini e Fritti, Caffe Marchio, or another USHG restaurant? Join our team here!