RELAXED STYLE OF RESTAURANT SERVICE BLURS THE LINE BETWEEN STAFF AND CUSTOMER
By Tim Carman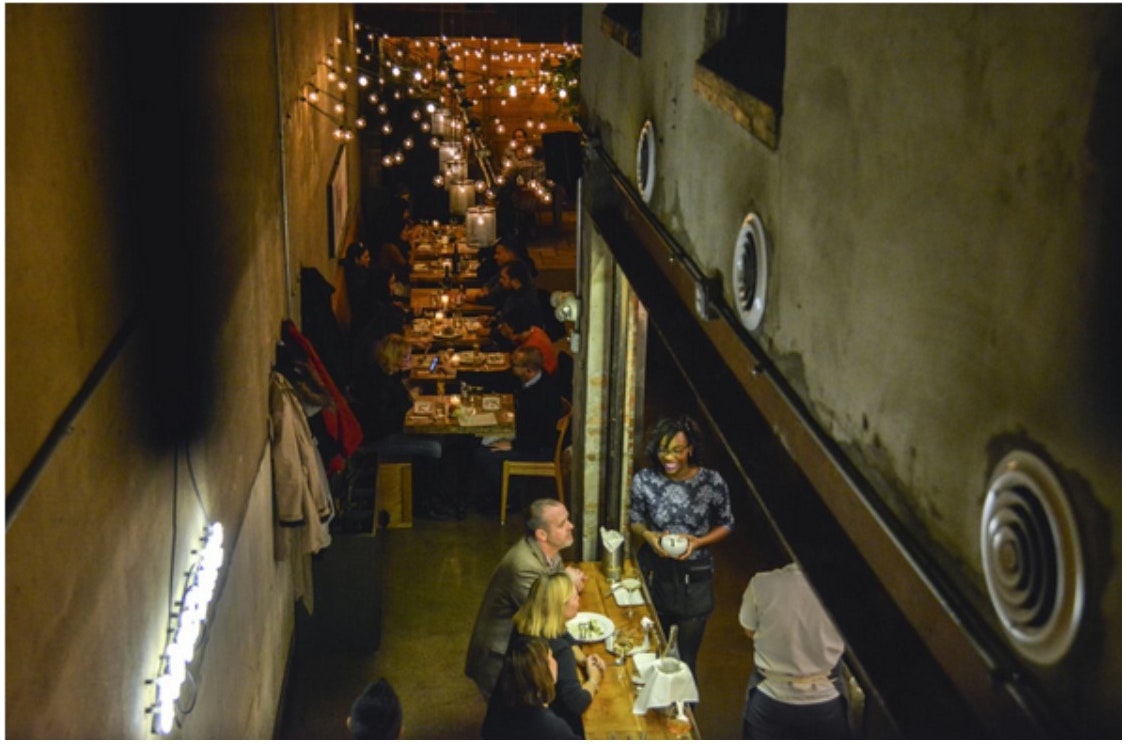 Janine Copeland checks in with diners at Rose's Luxury. The Capitol Hill restaurant embraces a more relaxed style of service that workers and customers alike seem to appreciate. (Jahi Chikwendiu/The Washington Post)
 
Once she places the silver platter on the table, the waitress we know as Janine launches into a detailed description of our family-style meal at Rose's Luxury. She tells us about the expanse of eggplant Parm, the crusty garlic knots and the bowl of fresh greens with red onions, radishes, peperoncinis and other submerged pleasures.
 
"The only thing I can compare it to," Janine says about the leafy side, "is a really good Olive Garden salad."
 
At that moment, my dining companion just about loses it. His expression hovers somewhere between delight and horror, a response that's amusing only once you know his profession: Jonathan Crayne is a senior captain at Marcel's, the Foggy Bottom institution where chef and owner Robert Wiedmaier proudly flies the fine-dining flag in a city increasingly dominated by restaurants catering to the T-shirt-and-sneakers set.
 
Crayne is an increasingly rare breed himself: a server who has been attending to the dining needs of the rich and famous for nearly 40 years. His career stretches back to the mid-1970s, to Windows on the World in New York, where he was trained not just to take orders, suggest wine pairings and recite daily specials. He was trained to be a master of tableside prep: In front of guests, he would prepare Caesar salads, debone Dover sole, chop steak tartare and flame crepes Suzette. In short, he peddled decadence, as largely defined and passed down by the great chefs of Europe.
 
To Crayne, the idea of invoking Olive Garden as a selling point at Marcel's is incomprehensible, the equivalent of explaining Wiedmaier's famous boudin blanc by comparing it to, say, a ballpark frank. When I ask the captain what Wiedmaier would have thought of Janine's description, he responds with a one-liner, delivered with the timing of a stand-up comic.
 
"He would definitely have to take a pill and sit down," Crayne cracks.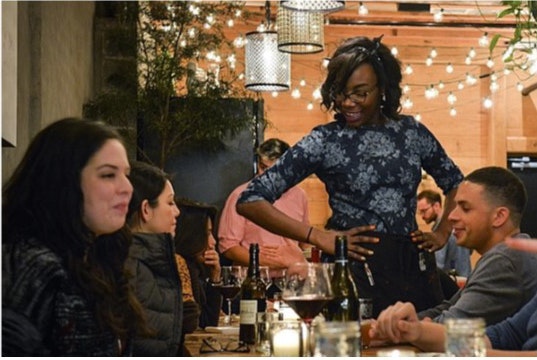 Copeland likes the fact that Rose's Luxury doesn't make servers wear uniforms or recite speeches about the menu. "I can be myself," she says. (Jahi Chikwendiu/The Washington Post)
 
'Thank you, Danny Meyer'
If you want to understand how dining has changed in the past decade, you have to look beyond just the kitchen. You have to look at the people on the dining room floor, too. Like chefs who have incorporated influences far beyond France, servers and front-of-house managers have ventured beyond French and Russian styles of service to embrace latter-day philosophers such as Chicago restaurateur Richard Melman and Danny Meyer, the New Yorker behind Union Square Cafe, Gramercy Tavern, Shake Shack and other establishments.
 
The bible for many young chefs and restaurateurs is Meyer's 2006 book, "Setting the Table," in which he explains his notion of "enlightened hospitality." It's a philosophy that emphasizes employees over customers, the community, suppliers and even investors; it also draws a clear distinction between "service" and "hospitality."
 
"The service is the technical delivery of a product," Meyer writes. "Hospitality is how the delivery of that product makes its recipient feel."
 
In the realm of enlightened hospitality, managers prefer employees who have better emotional skills than technical ones — a person, in other words, who knows how to cater to a diner's every need over a person who just knows how to refill the water glass. It's an approach that Meyer appropriated from Melman, founder and chairman of Lettuce Entertain You Enterprises, the company behind restaurants and chains such as Mon Ami Gabi, Maggiano's Little Italy and Joe's Seafood, Prime Steak & Stone Crab.
 
"It's remarkable to me how many businesses shine brightly when it comes to acing the tasks but emanate all the warmth of a cool fluorescent light," Meyer writes in "Setting the Table." "That explains how a four-star restaurant can actually attract far fewer loyal fans than a two- or three-star place with soul."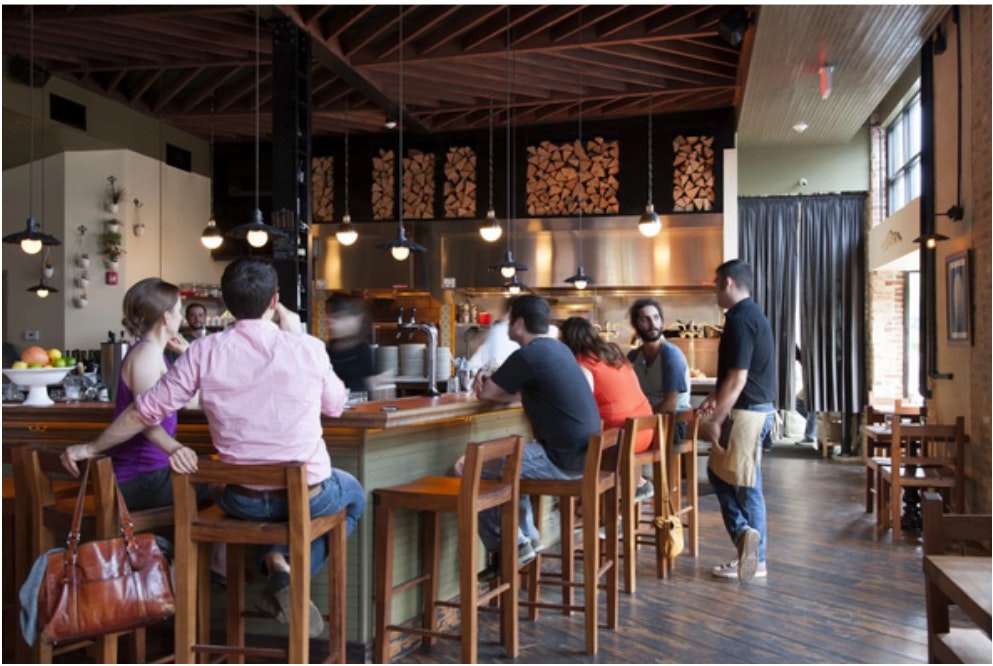 At the Red Hen restaurant in Bloomingdale, the goal is to serve customers with absolute attentiveness to their needs, says co-proprietor Sebastian Zutant. (Stacy Zarin Goldberg/For The Washington Post)
 
That philosophy has been practically etched into the psyche of some local chefs and restaurateurs, including Aaron Silverman at Rose's Luxury on Capitol Hill, Sebastian Zutant at Red Hen in Bloomingdale and Jeremiah Langhorne at the forthcoming Dabney in Blagden Alley. Zutant still remembers the day last year when he and Red Hen chef and co-owner Michael Friedman were sitting at the bar at Gramercy Tavern, Meyer's fine-dining institution. Friedman told the bartender he has a shellfish allergy. The food runner who brought his entree — a different Gramercy employee — told Friedman the dish had neither touched nor been anywhere near shellfish.
 
"It was such an impressive little piece of service that people overlook," Zutant says. "But it's really, really important when you experience it, and that's something we do now. Thank you, Danny Meyer."
 
The problem, as Meyer wrote in his book, is that "training for emotional skills is next to impossible." The key, then, is hiring people who exhibit a natural impulse to take care of others and have an ability to intuit a diner's needs. Short of employing a Myers-Briggs test to determine which personalities make the best servers, the process for identifying such emotionally sophisticated people can be vague, perhaps even arbitrary. A candidate's résumé and experience often mean less than his or her personality during an interview.
 
Silverman offers an example from his own hiring process at Rose's. He decided to hire a food runner who walked into the interview and immediately radiated warmth. He smiled, he was friendly, he had a good handshake. "He had a positive energy about him," Silverman says. "That's what we're looking for: people who are naturally comfortable." Silverman says he never even read the employee's résumé.
 
At both Rose's and Red Hen, if managers don't personally like a candidate, the applicant is essentially doomed, no matter how qualified. Michael Richmond, assistant general manager at Rose's, explains the logic behind the rather subjective process.
 
"We're always looking for personalities, which is one of the keys," Richmond says. "Are they good? Are they cool? Do they put a lasting impression on us?" That last quality is paramount: If the employee can't impress a small handful of managers, how can he or she expect to impress 50 or more diners a day?
 
No scripts, no dress codes
If servers are now tasked with making diners feel as if they're visiting a friend's warm and inviting home — rather than a stuffy restaurant where a waiter might use his knowledge as a blunt instrument — then managers are now tasked with providing servers a similar environment in return.
 
Restaurants historically have been cruel places for employees, who suffered long hours, low wages and endless verbal abuse from chefs and managers trained in the French brigade system. There's a reason turnover is so high in the hospitality industry, pegged at 62.6 percent in 2013, according to a National Restaurant Association report that quotes federal statistics. But at places like Rose's in Washington, Canlis in Seattle or Union Square Cafe in New York, managers are dismantling the old system and installing a new one. It goes beyond providing workers with benefits and other perks. It also gives them freedom.
 
For servers, it means they are no longer slaves to the classic steps of service — rules that, for example, might mandate that every diner be greeted within 30 seconds of being seated. Chefs and general managers still train the floor staff in greetings, wines, daily specials, dish preparations and 101 other things. But the more enlightened among managers don't force scripts, or prepared speeches, on servers. They give the wait staff freedom to improvise. They even give them the freedom to dress casually, sometimes at establishments that once had more stringent dress codes.
 
During a phone conversation, Meyer says he has relaxed rules on attire at Union Square Cafe to allow servers to wear blue jeans. The change was designed to appease the staff — and maintain the restaurant's service standards. Apparently a significant number of Union Square employees live in Brooklyn, where the casual, lumberjack-hipster restaurant scene has matured to the point that it can now compete with Manhattan eateries for top servers. Meyer didn't want attire to be a factor when a employee had to choose between his restaurant and one in Brooklyn.
 
"You want to keep the best employees, especially for Union Square Cafe," Meyer says about his restaurant that celebrates its 30th anniversary this year. The owner notes that it's critical to keep Union Square up to date, "so that it's relevant for the next generation."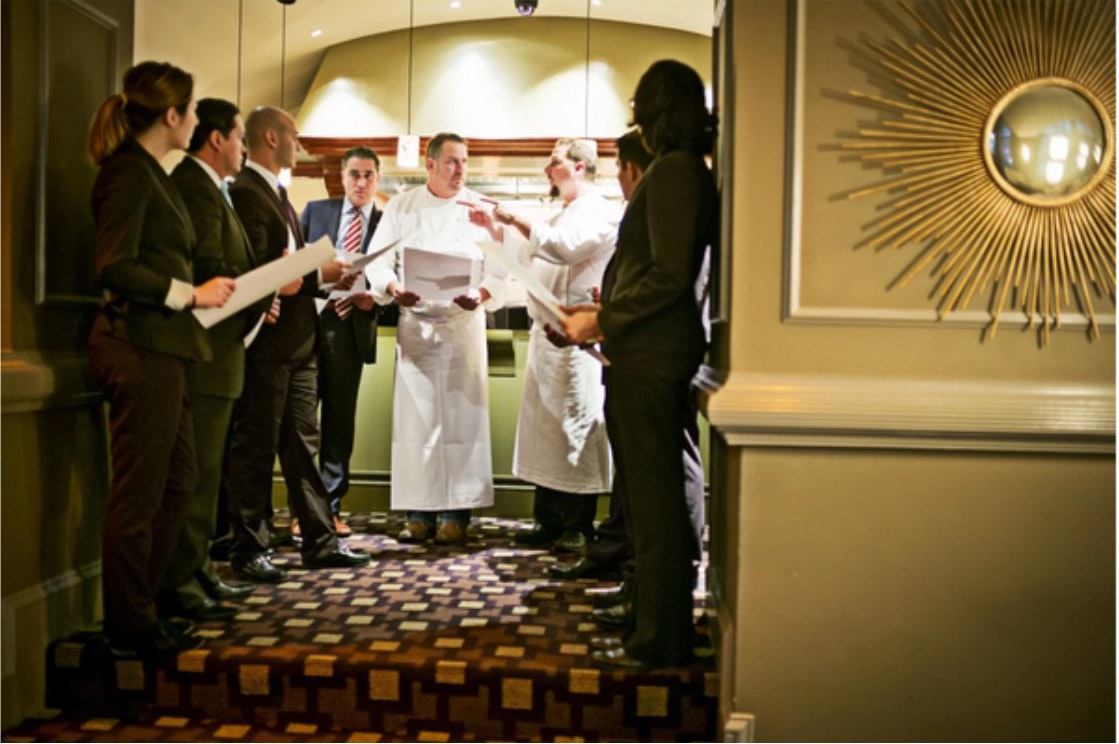 At Marcel's, a bastion of fine dining in Foggy Bottom, service is much more formal. Here, chef Robert Wiedmaier, left, and chef de cuisine Paul Stearman talk with the suited-up staff before dinner begins. (Scott Suchman/For The Washington Post)
 
In her previous jobs, Janine Copeland, our server at Rose's Luxury, didn't always enjoy the same freedoms and perks she has now. When she worked for the small Matchbox chain, she regularly had to follow written scripts, she says. At her current gig, she's given the ability to improvise and personalize the service. Copeland, 25, can also dress as she pleases, as long as her attire doesn't cross over into what she calls "slutty" territory. The idea is to dress as if "you're on a date," she shares during dinner.
 
On this cold January evening, Copeland has selected a pair of bib overalls and a black shirt. Her hair is tied up in a bandana. "Tonight," she says, "I'm on a date with a farmer."
 
Bantering with her, Crayne is charmed.
 
"I could play with her all night," says the 59-year-old captain. "She's funny."
 
But her act, Crayne notes, wouldn't play in Marcel's quiet, low-lit dining room, where outbursts of laughter are frowned upon. Marcel's aims for "polite but aloof elegance" with its service, although Crayne acknowledges he likes to inject more personality into his interactions, occasionally crossing the line with Wiedmaier.
 
Still, Crayne thinks Copeland has the passion and drive to work at Marcel's, should she ever decide to doff the overalls and slip into one of the designer suits worn by the wait staff at the fine-dining palace. Traditionally, that would be the logical move for a server like Copeland: Take her skills to a restaurant where a well-heeled diner could add hundreds of dollars to her bank account with the stroke of a pen.
 
But Copeland doesn't sound all that interested in changing jobs. As she says, "I've always thought Rose's will be the last restaurant I work at because I can be myself." It seems clear that she loves working where the line between server and customer, between work and play, is not so sharply drawn.
 
(ORIGINAL ARTICLE)